"There will be days my friend,
when one will want to walk along the mountain path,
whilst the other may prefer the valley,
but we will come together at the end of the day…"
From "The Journey", author unknown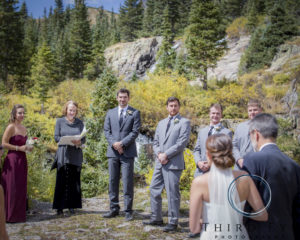 And so you find yourselves at one of the most important junctures in your lives – the decision to wed. Congratulations! There is no happier moment to celebrate than the moment you tell the world that you have found your partner for life's journey.
If your lives include a close bond to a special place in Colorado (and you are in good shape to get there!) consider exchanging your vows in that place that is close to your hearts.
Call me to discuss what goes into planning a "wedding in the wilderness" at the location of your choice. I will gladly join your journey.
"May beauty surround you both
on the journey ahead and through all the years.
May happiness be your companion
to the place where the river meets the sun."
From the Apache Wedding Blessing

Here is a video of a wedding Diane officiated
in Yankee Boy Basin near Ouray, Colorado.
Videography:  Pavol Kasala, Kasala Productions
Special Background and Considerations
Diane is a certified Class C hiker with Colorado Mountain Club, having completed their Wilderness Treking Skills course and the required hiking credentials. She has hiked half a dozen fourteeners and completed the entire 486-mile Colorado Trail, in addition to multiple other hikes. She hikes almost every weekend of "hiking season" in addition to keeping herself in top condition the rest of the year. She will consider hiking up to 15 miles roundtrip for your one-day event. Her average comfortable hiking speed is 2 miles per hour. She brings all her own gear.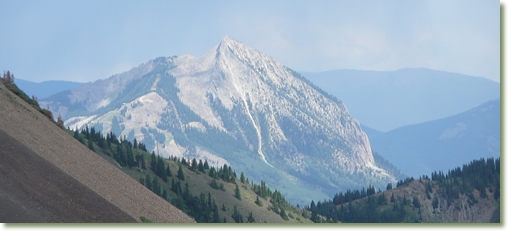 Diane does not provide guiding or outfitting services, and does not include such services in her fees. Clients are expected to choose their destination and be adequately prepared in every way to get themselves and their guests to and from that destination. This includes client responsibility for the essentials: maps, proper clothing, water and food, sunscreen, emergency shelter and first aid gear for themselves and guests.
Diane's choice to accompany you will consider all details, including weather and safe conditions on the day of your event. If, through nobody's fault, conditions are not safe on the day of your event (for example, due to weather), she will work with you in every reasonable way to go with you to an alternate location; she will adjust her fee for the day accordingly.
A liability waiver will be required of all clients who choose an event at a remote location.
Fees will consider travel time in addition to the preparation and officiating of the ceremony.  If a permit is required for the location the client chooses, Diane will inform the client.  It is the client's responsibility to obtain the permit and pay the permit fee, if any.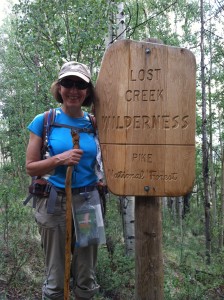 Since all Weddings in the Wilderness are completely unique, please contact Diane to discuss what you have in mind, the requirements for that event, and the fee involved.