Weddings: Generally $300 – $700 plus travel, depending on the complexity of the ceremony.  Diane can quote a fee over the phone after a brief discussion of what you have in mind.
–The average price for a fully customized wedding plus rehearsal in the metro-Denver area is $500.  This includes meeting in person or by Skype if a face-to-face meeting is impractical, consultations as needed, the couple's love story in the ceremony, a personalized unity ceremony (if the Bride and Groom want this), rehearsal, officiating the service, delivery of your marriage license back to the Clerk & Recorder, and a printed as well as emailed keepsake copy of your ceremony.
Discount:  mention you saw my post on WeddingWire and get a $50 discount on average price weddings ($500+ in value) in the metro-Denver area for ceremonies before Memorial Day weekend.
— Elopements in metro-Denver between Memorial Day weekend and Labor Day weekend are $300.  A modest fee for travel will be added for those outside the area.  An elopement ceremony is for those who want something simpler than the fully customized ceremony described above.  The ceremony would be no longer than 20 minutes and there would not be a separate rehearsal.  Diane interviews the couple by Skype, confers with them by phone and email to make sure the ceremony will be what they want, and officiates the service.  She gets the marriage license back to the Clerk & Recorder's office and emails a keepsake copy of the ceremony to the couple.
— Elopement sale for elopements before Memorial Day weekend or after Labor Day weekend: $250 for ceremonies in metro Denver.  A terrific value!  Contact Diane for details and limitations.
Funerals:  Diane is available for funerals and memorial services exclusively through Olinger/Dignity Memorial and Advantage funeral homes in the metro-Denver area, where she is on staff as the Director of Celebrant Services.  The fee charged for a Celebrant through these funeral homes is $495.
Ceremonies for Families and Children, and Community Ceremonies: priced individually according to the ceremony.
Additional fees:
Travel: A travel charge may be added for ceremonies 50 miles or more from Diane's home in Evergreen or (Mon-Fri) from her office in Wheat Ridge. Travel will include rehearsals as well as the ceremony.
Ceremonies at remote locations: An additional fee may be added, at Diane's discretion, for time to hike with you to and from the location. No services will be offered or provided for guiding or outfitting, and therefore no fee will be charged for such services.  If a permit is required for the location the client chooses, Diane will inform the client.  It is the client's responsibility to obtain the permit and pay the permit fee, if any.
How do I decide if we'll work together? First, Diane will talk to about what you have in mind for your special ceremony. This is a free, no obligation discussion. At the end of that discussion, she will give you a price for working with you on the ceremony you have in mind. If you would like to get together in person or, if distance prohibits that, meet by Skype before making your decision, she will do her best to accommodate you.  If you would like to proceed to work with Diane, she will give you a simple contract.  A signed contract and deposit (one-half the fee) is required before she begins work.
What services would I receive for a customized ceremony?  First, she'll send you a questionnaire to complete. Most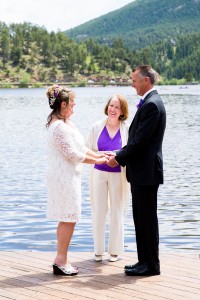 important, she will ask questions that help her discern the story behind this moment you are honoring and what a ceremony unique to you will include. Diane will work with you and any other appropriate family members to create a meaningful ceremony that reflects your beliefs, values and personality. She will integrate world rituals, symbols, poetry, and music appropriate and meaningful to you. She will work with you on drafts of the ceremony until you are pleased with a final version. You will have complete approval of the ceremony, which will be professionally written and original. Diane will officiate at that ceremony. If required, she can lead a rehearsal.  Following the ceremony, she will give you a beautiful printed copy of the ceremony as a keepsake.  For weddings, she will take care of getting the signed marriage license back to the Clerk & Recorder.